Low melting point solder paste
T4AB58-M742
T4AB58-M742D

Sn 57.6Bi 0.4Ag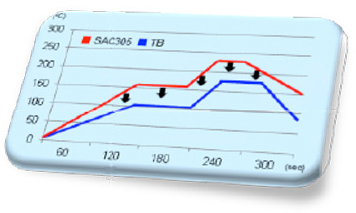 Reliable and workable in low temperature reflow
Energy-saving
By reducing the required reflow profile temperature, electricity consumption can be reduced by approximately 40% compared to SAC305.
Reduction of electricity consumption results in reduction in CO2 emissions, achieving both energy saving and environmental care.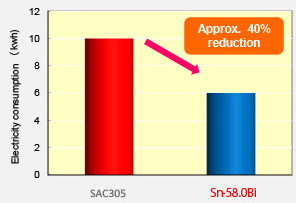 Reduces thermal damage to components and substrate
Energy saving is not the only benefit of a low temperature reflow profile. A low temperature profile reduces thermal damage to components during double-sided reflow and allows for use of heat-sensitive paper phenolic substrates.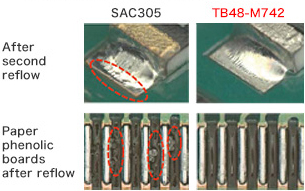 High insulation reliability
The flux solvent volatilizes even in low temperature reflow, eliminating reduction in insulation resistance arising from inadequate volatilization. TB48-M742・T4AB48/58-M742 produces flux residue with high insulation reliability.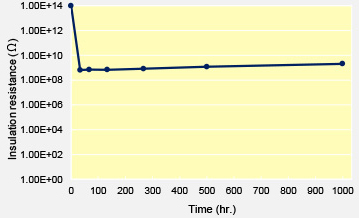 Also Available For Dispensing Application
Stable dispense performance of T4AB58-M742D allows efficient product usage.
Designated flux composition satisfies both meltability and low void occurrence from the chip-size packages to large components.
Product Performance Table
Product Name

T4AB58-M742 / T4AB58-M742D
Product Category

Solder Paste
Composition

Sn 57.6Bi 0.4Ag
Melting Point(℃)

138-140
Particle Size(μm)

20-38
Viscosity(Pa.s)

190
Flux Content(%)

10.0
Halide content(%)

0
Flux Type

ROL0 (IPC J-STD-004A)