Self alignment type SMT adhesive
JU-R2S


Unique technologies enable Double-sided mounting and joint reinforcement
Assists self-alignment of components during reflow
JU-R2S is designed to commence curing after the solder (SAC305) has melted. Therefore JU-R2S does not hinder self-alignment of components that may occur when the solder has melted.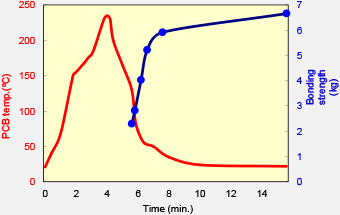 No lifting of components
Using a conventional adhesive with solder paste can result in the lifting of components during reflow because the adhesive cures before the solder paste melts. JU-R2S maintains its fluidity while solders are melted, and induces settling down of the components.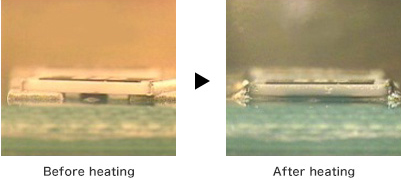 Tall deposits ensure contact with components
Dispensability was improved by reducing the viscosity while shape retention was also improved by optimizing the Ti value. Resultant tall deposits ensure contact and adhesion even to tall components.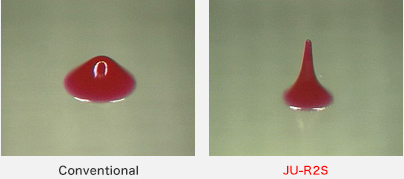 Product Performance Table
Product Name

JU-R2S
Product Category

Heat Curable SMT Adhesive
Composition

Epoxy
State / Color

Paste / Red
Viscosity(Pa.s)

50
Transition Temperature(℃)

75
Curing condition

>220℃for 45sec. Peak temperature : 235℃
Shelf life (0-10℃)

Below 10ºC, 6 months