Wave soldering flux with high cleaning performance of the pallet mask
JS-E-15L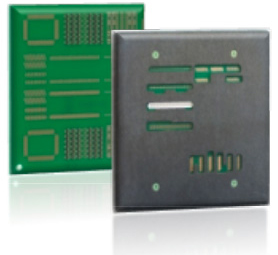 Improved cleanability for masking pallets Allowing easier maintenance
Further reduction of pallet cleaning time
Masking pallets require cleaning after every use. With improved cleanability, a significant reduction in pallet mask maintenance time and higher usability was realized.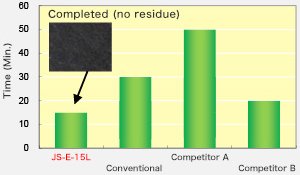 Prevents flux residue threading
There is little stickiness when removing pallets, resulting in significant reduction of threading. JS-E-15L effectively prevents adhesion of flux to components.

High wettability and excellent solderability
JS-E-15L comprehensively improves solder wettability and workability and achieves excellent solderability for substrates even with extensive heat history, such as attaching connectors after double-sided reflow.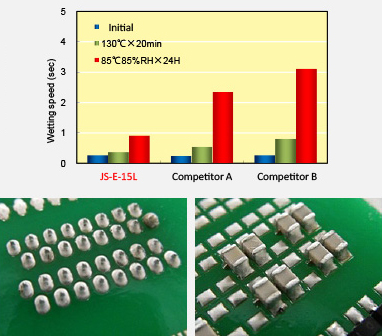 Product Performance Table
Product Name

JS-E-15L
Product Category

Liquid Flux for Wave / Selective Soldering
Solid Content(%)

15.0
Specific gravity (at 20℃)

0.823
Halide content(%)

0.063
Flux Type

ROL1 (IPC J-STD-004A)
Application

Spray / foam
Purpose of Use

Wave soldering