Super High Reliability Halogen Free
Solder paste
S3X58-HF900N

Sn 3.0Ag 0.5Cu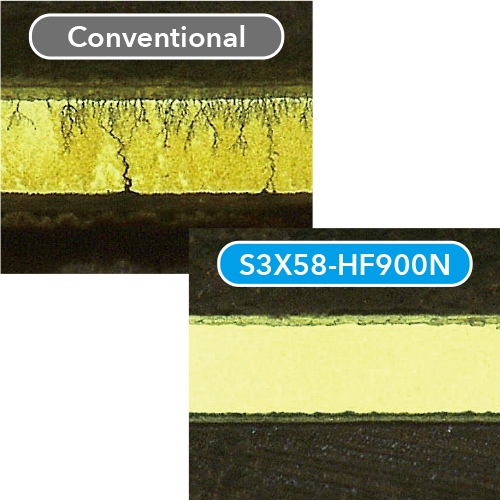 Designed to insure extremely high reliable SIR/ECM with an ultra narrow pattern
Reliability Challenges in Narrow Gap Patterns
When testing insulation reliability and flux residues, a 0.317mm gap comb coupon is normally used for both JIS and IPC standards. However, more and more customers are recently requesting a narrower gap test coupon.

■Issues
・Narrower gap allows metal ions to move between electrodes and increase electro migration.
・The above allows easier movement of ionized metal between tracks, thus increasing the occurence of electro migration.

■Solution
・The activator reducing system and hydrophobic rosin system in S3X58-HF900N prevents the formation of ionic metal.
This helps stop the occurrence of electro migration in very narrow tracks.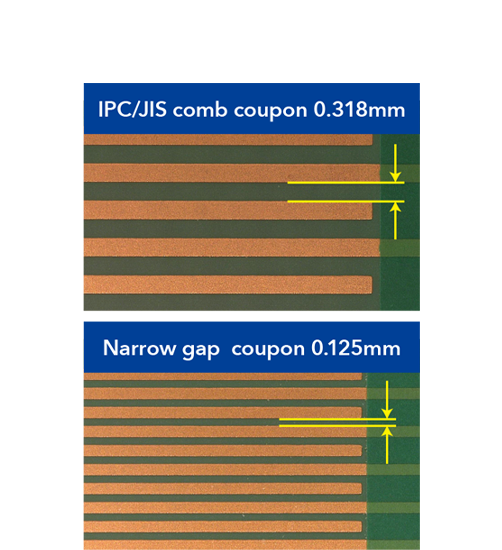 New Technology Achieves High SIR
■Conventional
Lowered insulation resistance due to the existence of ionic substances in the flux residue accelerates activity of the ionic substances.
Discharged metallic ion at the anode transfers to the cathode and gets reduced to a metal. The metallic deposit accumulates to form a dendrite at the cathode and shortens the distance between the electrode, resulting in ionic migration.

■S3X58-900N
With HF900N, less ionic substances remain in the flux residue. Due to the absence of ionic substances in the flux residue,
insulation resistance stays consistent even when a voltage is applied.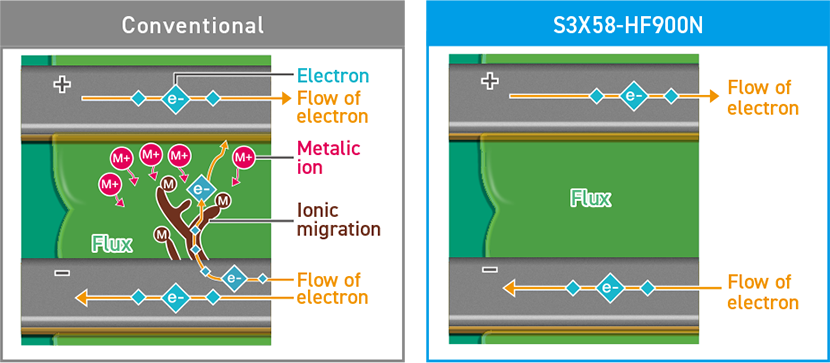 Notable Result in Narrow Gap SIR Test
S3X58-HF900N retains high SIR with no ionic migration observed after a 1000 hour applied voltage environment test.

Very Low Metallic Ions in Flux Residue
Flux residue contains very low metallic ions, which contributes to high SIR.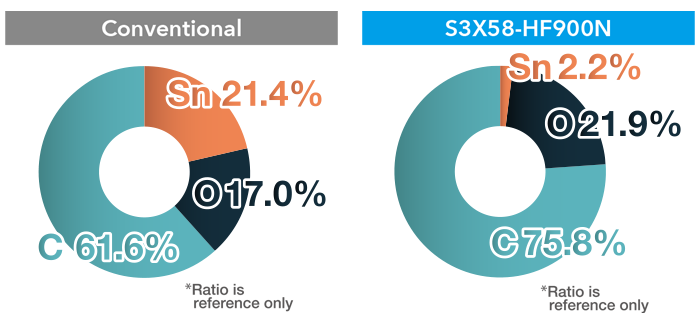 Product Performance Table
Product Name

S3X58-HF900N
Product Category

Solder Paste
Composition

Sn 3.0Ag 0.5Cu
Melting Point(℃)

217-219
Particle Size(μm)

20-38
Viscosity(Pa.s)

220
Flux Content(%)

11.0
Halide content(%)

0
Flux Type

ROM0 (IPC J-STD-004B)