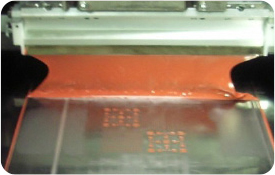 Multi-purpose printing adhesive with consistent workability
Applicable to various printing patterns
From large patterns to small patterns, a consistent stencil release property is achieved. JU-48P assures a high quality printing regardless of printing patterns.

Consistent printing
Heat slump during continual printing is suppressed, resulting in improved post-printing shape retention.
There is no fluctuation in the height of print deposits, achieving consistency in continual printing.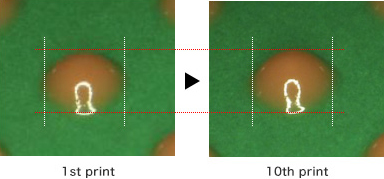 No marine pollutant No transporting surcharge
JU-48P has no marine pollutant that falls into the UN hazardous materials transportation, allowing for international transportation in general cargo.

Product Performance Table
Product Name

JU-48P
Product Category

Heat Curable SMT Adhesive
Composition

Epoxy
State / Color

Paste・Red
Viscosity(Pa.s)

150
Transition Temperature(℃)

105
Curing condition

130ºC x > 90sec.
Shelf life (0-10℃)

Below 10ºC, 6 months